About
Amateras Panorama Player is a media player software dedicated to panoramic cylindrical screen theaters with 360-degree content using multiple projectors or displays. As with the Amateras Dome Player for dome theaters, it offers the ease of use and functionality that only dedicated software can provide. It builds accurate 360-degree image projection from any viewpoint position in a short setup time. In addition, flat content and live video can be displayed as Picture in Picture style, just like putting up a poster on the panoramic screen surface.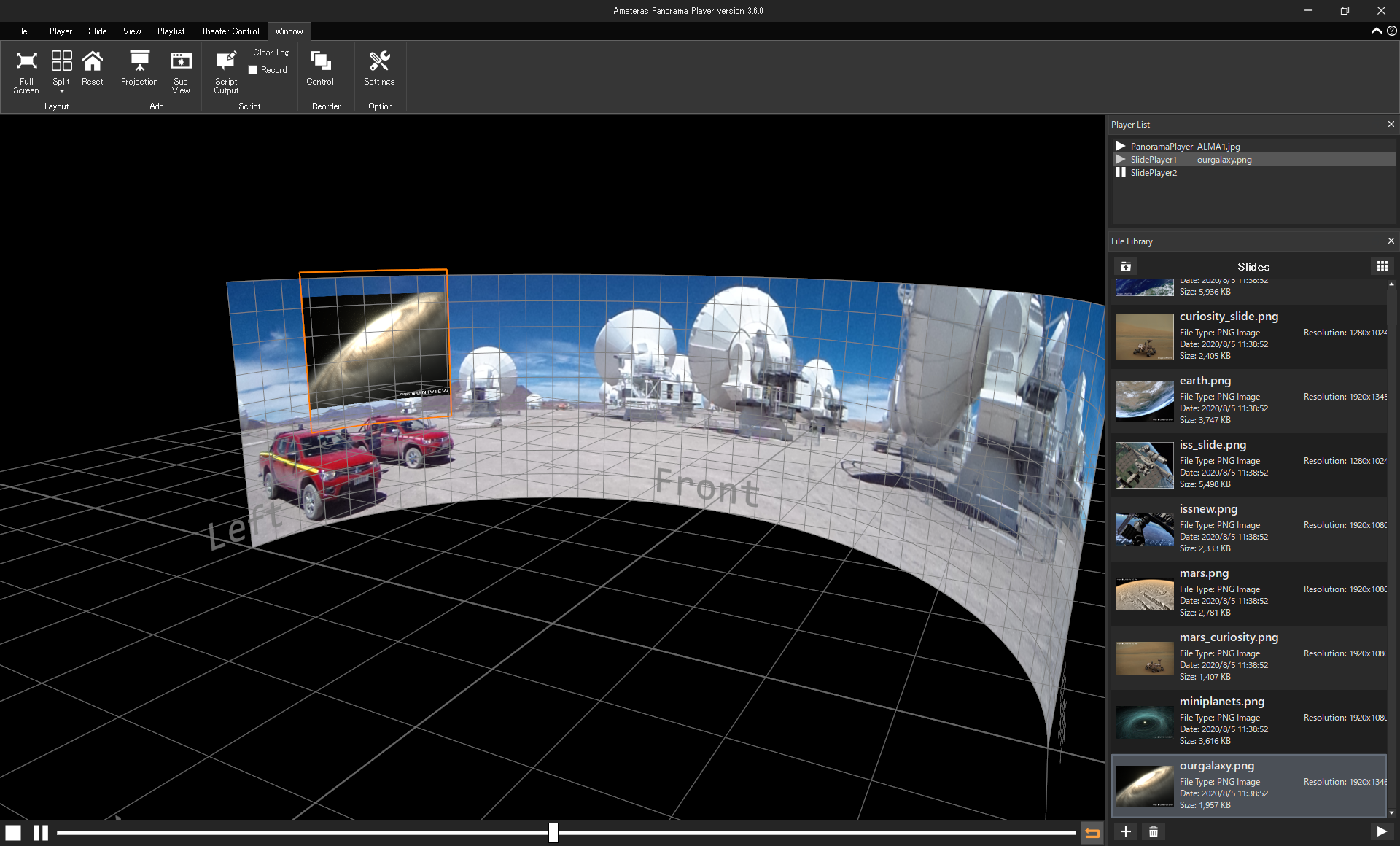 Download
Download the latest version
Click here to view change logs and download previous versions
2023.7.5

Amateras Panorama Player 3.8.4

Changed to display only video, still images, and playlists in the File Library.
Fixed a bug where the virtual light occasionally turned on at startup.
Updated the encoding profiles.
Renewed the WebUI for remote operation.
Modified to enable specifying codecs via TCP/IP communication.
Fixed the display of the title bar in the Windows 11 environment.
Fixed the behavior when preloading videos in the playlist.
Fixed the behavior of desktop capture outside the main screen.
Modified to identify stereoscopic files with the keywords "_sbs" and "_tab" included in the file name.
Changed the default content folder to "content".
Modified to display the viewpoint control panel by default.
Supported video encoding from a file path which contains 2-bytes characters.
Fixed a bug where the video stopped playing only when seeking during video playback.
Fixed an issue where the video briefly turned black when paused during video playback.
Fixed an issue where a line was displayed at the seam on the backside.
Updated the projection correction file format output by Amateras Panorama Mapper.
Fixed a bug where PIP blending was applied twice in Amateras Panorama Mapper.
Modified to calculate the vertical lens shift of the projector in Amateras Panorama Mapper.
Fixed a bug where HUI was broken when changing the coordinate system in Amateras Panorama Mapper.

2021.4.18

Amateras Panorama Player 3.6.0

NDI Input support added for Adobe After Effects/Premiere and realtime contents.
View control panel added for interactive panorama viewing.
Zoom marker added while scaling up/down in the mapping mode.
Remote Web UI is updated. Now content list is updated automatically.
Audio capture added to Datapath capture input.
View and playback control with Oculus Touch added.
View frustum export added in Panorama Mapper.
Encode profiles and GUI framework are updated.
Non-square video capture inputs displayed black region in PIP.
Gamepad focus was fixed in sub windows.
RS-232C messages must be devided by \r or \n character.
Switching Simul Stereoscopic mode of Panasonic projectors is added.

2020.1.19

Amateras Panorama Player 3.5.6

First release as Amateras Panorama Player
System Requirements
| | |
| --- | --- |
| OS | Windows10 (64bit only) |
| CPU | Corei5 or better |
| Graphics | NVIDIA GeForce/Quadro series graphics cards |
* High performance CPU and graphics cards are required for high resolution movie playback.
* To build a full-scale system with multiple projectors, consider installing Amateras Server.
How to Purchase
Please contact us for pricing information. Software can be tried out in advance with free trial version.
If you would like to receive training in projector calibration or have our staff perform calibration work on site, please contact us for further information.
Contact
For more information on Amateras products and services, please contact ORIHALCON Technologies, Inc.