About
As the industry's leading dome content player, Amateras Dome Player is a powerful and easy-to-use system that enjoys widespread adoption for use with both small and larger, hi-end dome theaters. Its graphical interface (GUI) is specially designed for domes, so you can make the best use of your dome theater's immersive environment. All of its previewing functions are available for free, so anyone can understand how to use the dome theater without actually being there. Amateras Dome Player was developed in order to facilitate content creation and make the technology accessible to help expand the community of dome content creators.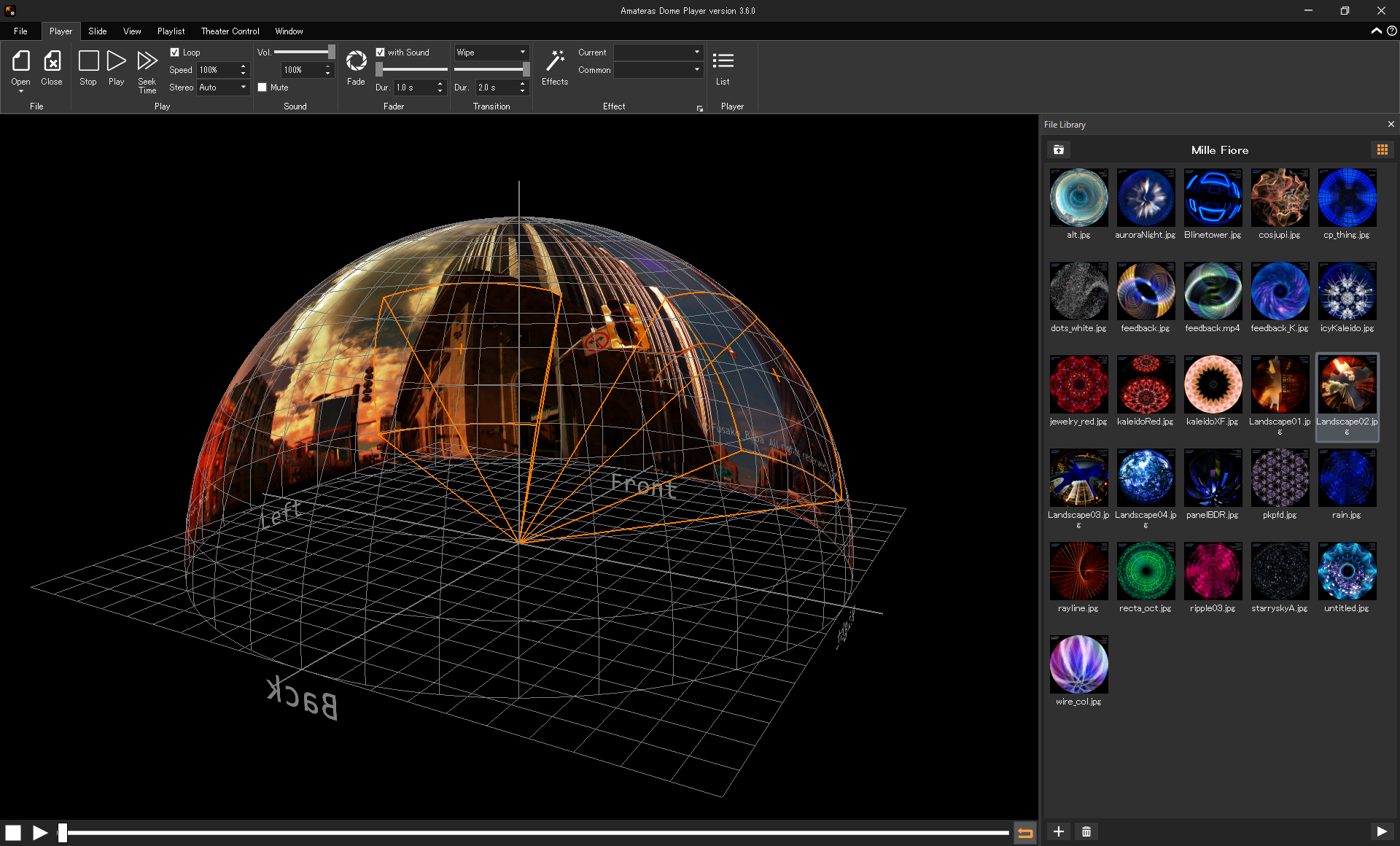 License
AMATERAS Dome Player consists of three versions. You can use Free Version for use and test all functions. Two other editions are commercial product licenses for actual dome projection use.
Flying logo is displayed in some functions in Free Version, but that is only the difference. So you can test all functions befor purchase the license.
Free Version
Standard Version
Professional Version
Sequencial Images output

Logo displayed

Available

Available

Spherical Mirror / OmniMap

Logo displayed

Available

Available

Projection Correction Setup

Logo displayed

Logo displayed

Available

Multi-Projection Setup

Logo displayed

Logo displayed

Available

Network Synchronization

Logo displayed

Logo displayed

Available

Price
Free
Sell (USB Dongle)
2,000 USD
Sell per site
Contact us.
Available : Function is available
Logo displayed : Function is available but logo is displayed.
Download
Latest Version
Change log and old version download
2023.7.5

Amateras Dome Player 3.8.4

Changed to not display files other than videos, still images, and playlists in the File Library.
Fixed a bug where the virtual light sometimes turns on at startup.
Added perspective corner correction function to the mapping function.
Updated encoding profiles.
Renewed the WebUI for remote control.
Fixed to specify the codec via TCP/IP communication.
Fixed the display of the title bar in the Windows 11 environment.
Fixed the behavior when preloading videos in the playlist.
Fixed the behavior of desktop capture outside the main screen.
Supported export of sbraw and spm formats in projection correction.
Modified to identify stereoscopic files using the "_sbs" and "_tab" keywords included in the file name.
Changed the default content folder to "content".
Supported video encoding from a file path which contains 2-bytes characters.
Fixed a bug where only the video stops when seeking during video playback.
Fixed an issue where the video briefly turns black during pause during video playback.

2021.4.18

Amateras Dome Player 3.6.0

NDI Input support added for Adobe After Effects/Premiere and realtime contents.
View control panel added for interactive panorama viewing.
Amateras Dome Mapper added for multi-projection in a dome theater.
Keep tilt angle of panorama content matching to the horizontal line of the dome screen.
Zoom marker added while scaling up/down in the mapping mode.
Remote Web UI is updated. Now content list is updated automatically.
Audio capture added to Datapath capture input.
View and playback control with Oculus Touch added.
Encode profiles and GUI framework are updated.
Non-square video capture inputs displayed black region in PIP.
Gamepad focus was fixed in sub windows.
RS-232C messages must be devided by \r or \n character.
Switching Simul Stereoscopic mode of Panasonic projectors is added.

2019.4.24

Amateras Dome Player 3.5.4

GPU Decode (H.264, H.265/10bit) added for Amateras Server.
Compatibility with Room Player and Mapper is improved.
Projection Format (Dome master or Equirectangular) settings added for each content file.
ARTNet support added for lighing control.
Fixed PJLINK bug which caused crash by frequent access.
Fixed GUI bug by desktop scaling.
More test pattern grids added.

2018.3.27

Amateras Dome Player 3.5.2

Supports playback of mp4 files such as RICOH Theta (Encoding with Amateras Encoder recommended).
Supports aanoramic view operation by 3DConnexion Space Mouse.
Fixed a bug where slides were affected by Panorama Conversion.
Displays Amateras encoding when trying to play unencoded movie files.
Changes Amateras Encoder's default profile to 'No Resize High Quality'.
Fixed to select FPS close to source when encoding.
Reset view to spherical center in Overlay view style with Panorama Conversion.
Fixed file sync to run without external tools.
Stereoscopic projection becomes available in Free version.
Fixed several GUI style bugs.
Projection: Export frustum distortion meshes with triangulation.
Projection: Add display position to 'Build Multi-displays' dialog.
Projection: 'Build Room Mapping' function added.
Projection: Sbraw format support added for distortion, white and black level correction.
Projection: Fixed the line marker end point bug.

2017.12.6

Amateras Dome Player 3.5.0

Changed interface to black flat design.
High resolution display (Retina) supported.
Launch problem in MacOS Sierra and later is fixed.
Drag & Drop operation supported in Playlist and File list.
Smooth unloading after movie content transitions.
Remaining slide regions after removing all slides fixed.
Spout library updated to the latest version.
Remove all sub windows by Reset Layou button.
Projection: SBRaw mesh format import supported.
Projection: Mesh format .sbraw import supported.
Display profile info in Encoder.

2017.8.24

Amateras Dome Player 3.4.0

Multi-thread decoding supported (in Option Settiongs dialog).
Higher playback upto 4K Dome Master 60fps supported with multi-thread decode.
10bit, YUV422/444 and H.265 codecs added (we still recommend using Amateras Encoder).
60fps and 4K Dome Matser profiles added to Amateras Encoder.
App.setPanoramaRande(min. direction, max. direction, min. tilt, max. tilt) command added.
Shortcut keys becomes available in the trackball mode.
The latest Datapath capture cards (4K60p) supported.
Progress of the playlist can close showing message.
Fixed a bug where the application closed in full screen mode.
Numerical input in Panoramic Conversion dialog fixed.
Make .cache folder hidden in the File Library.
Direction labels in Oculus Rift view style fixed.
Projection: Perspective correction supported.
Projection: Asymmetric frustum supported.
Projection: Fixed a bug where the cursor did not hide in the projection correction mode.
Projection: Fixed a bug when exporting from multiple displays.
Projection: Black level, white level and DLP color correction supported.
Projection: Mesh format .cmb import supported.
Projection: Options added to DirectX .x format import.
Released the latest version 3.4.0 on the MacOSX version too.

2016.10.30

Amateras Dome Player 3.3.2

Compatibility with the latest NVIDIA driver fixed.
Spout capture with alpha channel supported.
Panorama conversion settings can be stored in File Library for each content.
Stereoscopic offset setting added.
Green line edge bug around movie contens fixed.
Screen grid rendering is fixed.
App.setCursorPos(x, y) command added to move the mouse cursor.
OSC.sendDirect("address:port", "path", vvalue) command added.
Save images with transparent background is fixed.
[Enter] key problem with Script Output window fixed.
[with Dound] check box also works with transitions.
[Maximum Frame Rate] in Option Settings dialog is fixed.
Ranged movie files with 29.97 fps in the playlist did not proceed at its end.
Frame synchronization with NVIDIA Quadro Sync supported.
Projection: Manual black level correction supported.
Projection: Brightness and gamma control for each displays added.
Projection: Mask erasing bug is fixed.
Projection: Confirmation with unsaved project can be disabled.
Projection: Project file parameters are minimized.
Projection: [Generate Edge Blending] with Blending meshes is fixed.
Projection: Region cropping in OBJ file export added.
Projection: SCISS .sgc format import supported.
Projection: DirectX .x format import supported.

2016.5.31

Amateras Dome Player 3.3.0

Rebuild internal structures to share with Mapper.
Application icons fixed.
Sub views layout is stored for later use.
Specify sequencial image files by "-o filename6d.bmp".
Vertical stereoscopic layout by keyword "_TB" in file name.
Player states displayed in Effects panel.
Vertical flip flag added for Spout2 capture.
Lock View prohibits to reset camera position.
Save as Jpeg file with highest quality setting.
Line width becomes configurable independently from offscreen resolution.
An image file is loaded smoothly while playing a movie.
App.getVersion() command added to retrieve Amateras' version number.
Rendering optimized for screen grid, slides and virtual light.
Rendering optimized for Environment models.
Projection: Display region crops meshes, masks, etc..
Projection: Confirm dialog after the project saved.
Projection: Overlay image for Computer added.
Projection: Composition Bufferr added for composition in source.
Projection: OmniMap project and view style supported.

2015.12.16

Amateras Dome Player 3.2.4

Spout2 realtime application screen capture support (such as AfterEffects with Spout plugin) (Windows).
Trackball operation mode added to look around panoramic images.
Negative Color effect added.
Tilt center position fixed for Equirectangular to Domemaster dormat conversion.
Premultiplied aplha image sequence files supported.
Extract Audio profile didn't work in English environment.
Fixed several bugs.
Launch problem fixed for MacOSX version.

2015.9.22

Amateras Dome Player 3.2.2

Adjust Panorama effect added.
CPU usage problem fixed.
Fixed several bugs.

2015.8.29

Amateras Dome Player 3.2.1

Panorama control GUI improved. (Center parameter added.)
Equirectangular template added.
Oculus Runtime 0.7.0 support. (Windows)
Occasional display error fixed in launching time. (MacOSX)
Fixed several bugs.

2015.7.19

Amateras Dome Player 3.2.0

Panorama control GUI improved.
GUI in Hi-DPI display environment fixed.
Message Box after Sequencial Image Export and Save the project file.
TCP and DMX communication bug fixed. (Windows)
Projection: Stage is refactored to Computer and Display.
Projection: Edge of meshes can be antialiased.
Projection: Marker Line changed to connected lines.
Fixed several bugs.

2015.5.5

Amateras Dome Player 3.1.4

Crop works with outside of the source region.
Color Correction enabled state is visible on the tool bar.
Inter-change between equirectangular and domemaster formats supported.
NVIDIA Quadro/Quadro Sync frame synchronization supported.
Blackmagic Decklink capture cards supported.
More projector types become controlable.
Node lock product registration in MacOSX platform.
Stereoscopic rendering was inverted.
Projection: Frustum based correction for realtime application supported.
Projection: Resizing mesh also resize pins.
Projection: Multiple IP address in each Mesh Stage.
Projection: Re-order of meshes in a Mesh Stage supported.
Projection: Aspect ratio for wide view projection fixed.
Projection: Generate edge blending fixed.
Fixed several bugs.

2014.11.27

Amateras Dome Player 3.1.2

Color Correction added in the context menu of the File Libray.
Desktop Capture added in the Playlist.
DMX and MIDI pulse added in the Playlist.
Sequencial Image playback speed becomes adjustable.
Projection: Pins snapped to the markers.
Projection: Mesh alpha becomes fadable.
Fixed several bugs.

2014.10.3

Amateras Dome Player 3.1

Added stereoscopic dome content support (Horizontal Double Dome Master format).
Added spherical mirror warp projection view.
Added Oculus Rift DK2 support.
Added window order control function.
Added dynamic playback speed control.
Added image export with splitting.
Show warning when play a movie with embeded sound.
Show warning two-byte characters in encoding file path.
Projection: Added mesh opacitty control.

Projection: Added line shape marker.
Projection: Added generation of corner pins.
Projection: Added rectalngle and radial test patterns.
Projection: Optimized huge polygon mesh rendering.
Projection: Toggle all blending and mask at once.
Projection: Marker and Pin size become resizable.
Projection: Cursor shape becomes easy to find in multi-projection.
Fixed several bugs.

2014.5.23

Amateras Dome Player 3.0
Windows 64bit / MacOS 10.x
System Requirements
| | |
| --- | --- |
| OS | Windows 7 or later (64bit only), MacOS X 10.10 or later |
| CPU | Intel Corei5 or better |
| Graphics | NVIDIA GeForce/Quadro or AMD Radeon/FireGL graphics card |
* High performance CPU and graphics cards are required for high resolution movie playback.
Contact
For more information on Amateras products and services, please contact ORIHALCON Technologies, Inc.