About
Amateras' powerful image mapping features allow you to adjust visual content for projection mapping using multiple projectors, projection onto dome screens, and digital signage and visual event systems with flexible display layouts. Amateras Mapper is a tool for creating this image mapping data, to display images and video materials with realtime correction in Amateras Server, or converting them with Amateras Slicer for playback on signage players and other video output devices.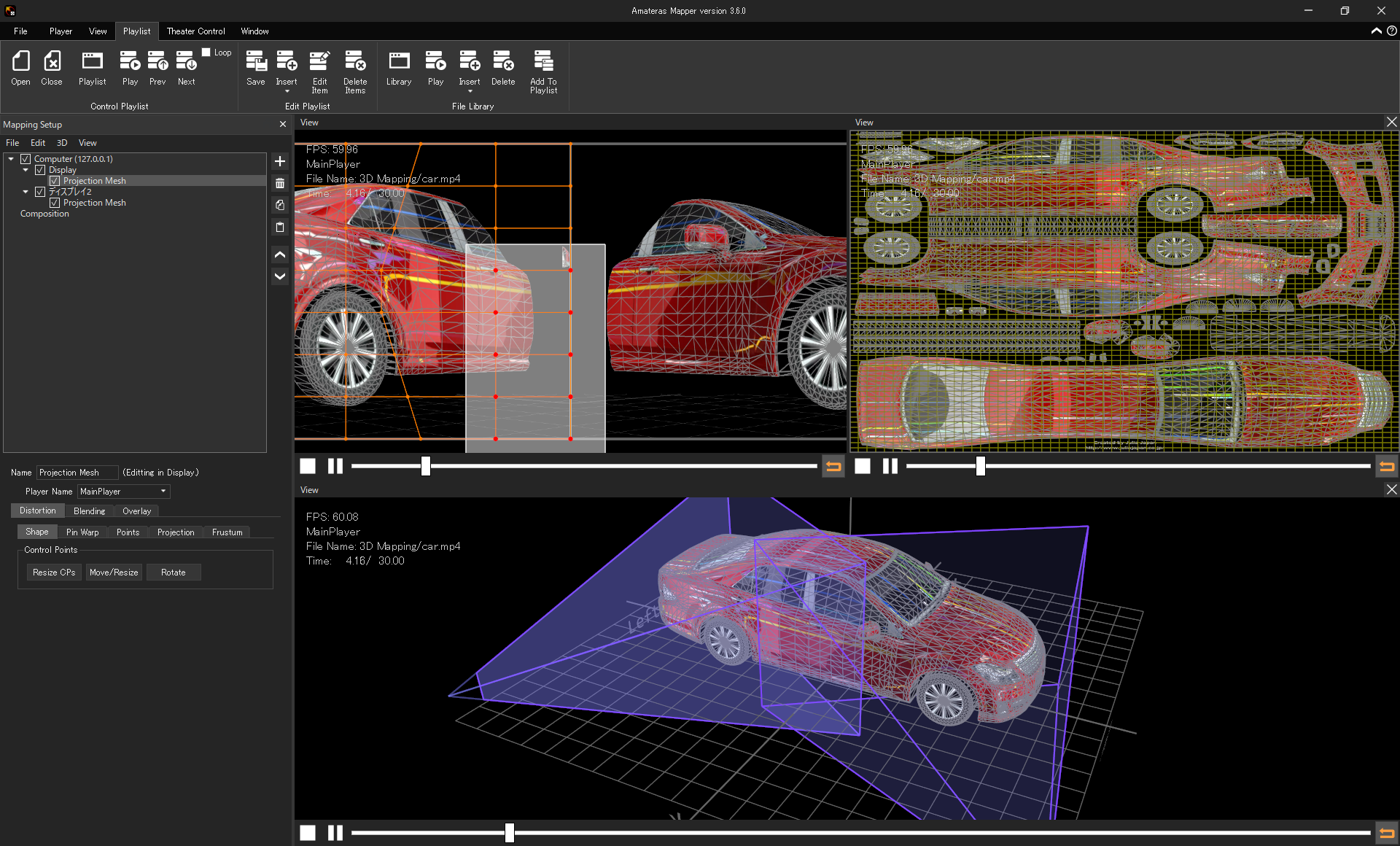 Download
Download the latest version
Click here to view change logs and download previous versions
2021.4.18

Amateras Mapper 3.6.0

NDI Input support added for Adobe After Effects/Premiere and realtime contents.
Zoom marker added while scaling up/down in the mapping mode.
Remote Web UI is updated. Now content list is updated automatically.
Audio capture added to Datapath capture input.
View and playback control with Oculus Touch added.
Encode profiles and GUI framework are updated.
Non-square video capture inputs displayed black region in PIP.
Gamepad focus was fixed in sub windows.
RS-232C messages must be devided by \r or \n character.
Switching Simul Stereoscopic mode of Panasonic projectors is added.

2018.4.1

Amateras Mapper 3.5.4

First release as Amateras Mapper
recommended system requirements
| | |
| --- | --- |
| OS | Windows10 (64bit only) |
| CPU | Corei5 or better |
| Graphics | NVIDIA GeForce/Quadro series graphics cards |
* High performance CPU and graphics cards are required for high resolution movie playback.
* To build a full-scale system with multiple projectors, consider installing Amateras Server.
How to Purchase
Please contact us for pricing information. Software can be tried out in advance with free trial version. Amateras Slicer is required for converting the content, and Amateras Server is required for screening with real-time correction. Without a valid license, a flying logo will be displayed on converted result and projection screen.
Amateras Slicer
Simple playback systems can be built inexpensively with signage players.
If you change the mapping data due to projector misalignment, etc., you will need to convert content again.
You can use the purchased license without limitation of time or purpose.
Amateras Server
You can start screening immediately after adjusting the projection. No conversion is required.
You can use interactive content by plug-in or video capture function.
License for permanent installation and rent are available.
If you would like to receive training in projector calibration or have our staff perform calibration work on site, please contact us for further information.
Contact
For more information on Amateras products and services, please contact ORIHALCON Technologies, Inc.